More and more creators are bringing their podcasts and shows to Spotify. With 345 million monthly listeners on Spotify, there's a massive opportunity for all of these creators to monetize their work—and we believe there needs to be a variety of options for them to choose from to do so.
At Stream On, we shared that we'd be launching more choices for podcast monetization: a native solution on Spotify to power paid podcast subscriptions, and the activation of independent creators as part of the Spotify Audience Network. Today begins the rollout of our monetization options for all creators: with Paid Subscriptions, Spotify's Open Access Platform, and bringing independent creators into our Spotify Audience Network.
Paid subscription platform
Today, we're rolling out a paid subscription platform for podcasters that gives them maximized revenue, wide reach, and discoverability. The program begins rolling out in the U.S. today and will expand internationally in the coming months.
This feature will be available to creators through Anchor, allowing podcasters to mark episodes as subscriber-only and publish them to Spotify and other podcast-listening platforms. For the next two years, this program will come at no cost to the creator, meaning that participating creators receive 100% of their subscriber revenues (excluding payment transaction fees). Starting in 2023, we plan to introduce a competitive 5% fee for access to this tool.
By enabling wide distribution of subscriber-only content, our aim is to help podcasters maximize their subscription audiences and grow them from their existing listener bases. Within Spotify, this content will be searchable and discoverable like any other podcast episode.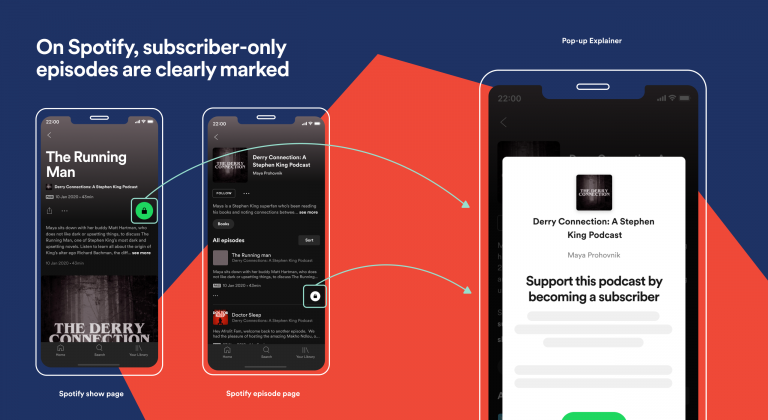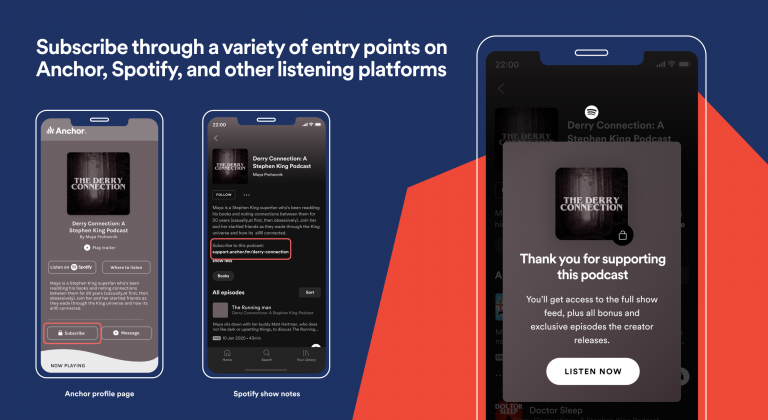 The first group of participating creators includes 12 independent podcasters who are each uniquely well positioned to succeed in gaining meaningful revenue from their audiences. These creators will publish subscriber-only bonus content in their existing podcast feeds. Starting now, we're also going to begin accepting submissions from our waitlist, effectively expanding the program to more creators and the rest of the world over the coming months.
We're also unveiling a collaboration with NPR in which they will publish a selection of their shows sponsor-free for paid subscribers. Five shows will be available starting May 4—How I Built This with Guy Raz, Short Wave, It's Been a Minute with Sam Sanders, Code Switch, and Planet Money—with more to come in the following weeks. Look for NPR shows marked as "Plus" (for example, Planet Money Plus) to subscribe to sponsor-free content from NPR and support the shows you love.
Listeners can look forward to a seamless Spotify listening experience. This subscriber-only content will be fully searchable and discoverable within the Spotify app, and even show up within a show's main feed—shows will be marked with a lock icon on the play button. Listeners will be able to tune in knowing that their subscriptions are going directly to the podcasters they love, giving independent creators a revenue stream on their own terms.
Spotify Open Access Platform (OAP)
Are you a creator or publisher who has subscribers elsewhere? We're also working on technology that will let your listeners hear your content on Spotify using your existing login system. This gives creators with existing subscriber bases the option to deliver paid content to their existing paid audiences using Spotify, retaining direct control over the relationship.
Stay tuned: We're currently testing the technology and will have more to share in the coming months about partners and features.
Spotify Audience Network
At Stream On, we announced the Spotify Audience Network—a first-of-its-kind audio advertising marketplace in which advertisers of all sizes will be able to connect with listeners consuming a broad range of content. We've already unlocked Megaphone publisher inventory via the network, and starting May 1, we will begin to open Spotify Audience Network to select independent creators using Anchor, so more people can have access to this unique tool.
We believe this technology will enable more creators to make meaningful revenue from their podcasts by providing much better value to advertisers than existing podcast advertising solutions that use RSS. This will ultimately bring more dollars (and more-efficient spending) into the space, benefitting creators who choose to monetize through advertising.
Curious to know more? Check out Anchor's blog for more on how the Paid Subscription program works for creators.
Please follow and like us: