Beyonce is the real queen with a stash of bag to prove it, thanks to her hard work ethic and talent, The Evening Standard confirms that she's sold more than 118 million albums as a solo artist. Beyoncé also has an impressive net worth of $440 million, according to Forbes.
Her Netflix deal was reportedly worth $60 million, and Beyoncé was also reportedly in talks with Disney for a three-picture, $100 million deal. And this is to say nothing of the success of her other ventures, such as her Ivy Park clothing line, which is infinitely more successful than her House of DeRéon venture (although, to be fair, DeRéon jeans got a shout-out in "Single Ladies" because they were cute).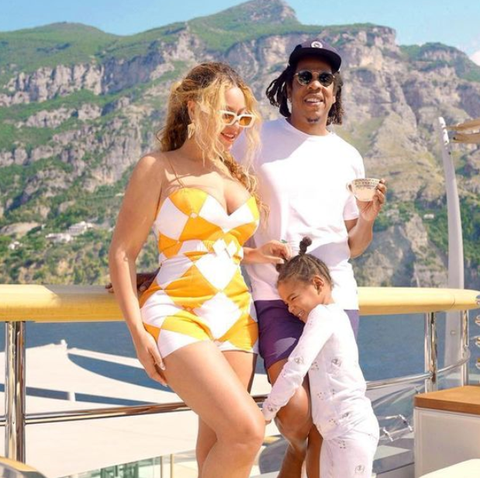 So, this pop sensation has expanded her resumé to include the titles of actress, activist, wife, mother, and mogul. And all of them are well deserved. When outlets ask "what's next for Beyoncé?" the correct — and only — answer is, whatever she wants.
Beyoncé: Awards and Recognitions
You want awards? Beyoncé's got'em. She's received nine American Music Awards (and 24 total nominations), 30 BET/BET Hip Hop Awards (and 65 total nominations), 22 Billboard Music Awards (and 78 total nominations), 24 Grammys (and 70 total nominations), and 13 MTV Video Music Awards (and 37 total nominations). Phew!
Beyoncé: Instagram
Social media marketing experts will tell you that it's all about engagement, and Mrs. Carter has it in spades. She has 204 million followers on Instagram and gets an average of more than three million likes per post and more than 25,000 comments per post.
Beyoncé: Tours
Beyoncé can put on a live show like no other, and her fans have rewarded her with major bank as a thank you. In 2020, Beyoncé was named one of the highest touring artists of the decade with earnings of over $857,405,819. The "I Am" World Tour earned her $119,5000,000, while the "On The Run II" tour with her husband Jay-Z gave her a $250,000,000 payday. Meanwhile, the "Formation" world tour in 2017 made her $256,000,000 richer.
Beyoncé: Spotify Streams
Beyoncé doesn't have all her music on Spotify. Since 2015, the easiest way to stream the Queen Bey's music has been through Tidal. Nevertheless, the music that's available on Spotify has also done numbers. Her music has had over 3,000,000,000 album streams and 41,562,738 monthly listeners. The top Beyoncé song on Spotify is "Halo."
Source: AfroTech and Forbes
Please follow and like us: